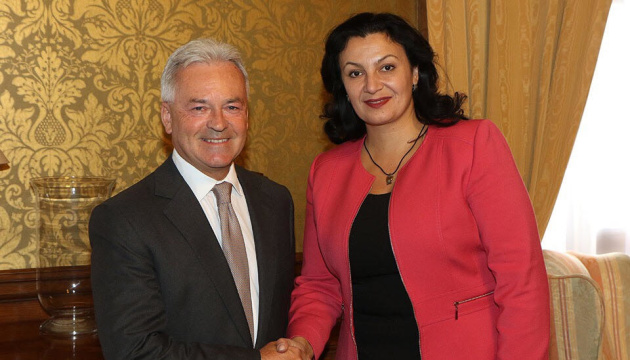 Vice PM Klympush-Tsintsadze discusses issuance of British visas to Ukrainians
Vice Prime Minister of Ukraine for European and Euro-Atlantic Integration, Ivanna Klympush-Tsintsadze has thanked the UK Government for its firm stance on Ukraine and continuation of sanctions against the aggressor.
"I hope that the UK Government as the key contributor to the SMM will continue to make every effort to ensure the effective operation of the mission in Donbas. We also count on your support in the UN Security Council in the matter of deployment of a full-fledged peacekeeping mission, which would have unhindered access throughout the entire territory, including the border. We are ready to work together to make such a mission a reality," Vice PM Klympush-Tsintsadze said during a meeting with Sir Alan Duncan, UK's Minister of State for Europe and the Americas, during a working visit to London, the press service of the Cabinet of Ministers of Ukraine reports.
Klympush-Tsintsadze thanked Duncan for UK's joining the US "Crimea Declaration" and asked to strengthen influence on Russia in the issue of release of Ukrainian political prisoners held in the Russian Federation. Duncan supported the need to strengthen international efforts to free the captives of the Kremlin.
Ukrainian Vice PM also thanked the United Kingdom for its assistance in strengthening Ukraine's defense capability, in particular in the areas of cyber security, strategic communications and military training.
In addition, the issue of simplifying and improving the procedure for issuance of British visas to Ukrainians was raised. "There are problems with the issuance of British visas to Ukrainians," Klympush-Tsintsadze said and stressed that visa denial share of 14% and delays in issuing British visas do not correspond to the level of cooperation between the two countries.
Duncan expressed his willingness to appeal to his colleagues responsible for the visa policies regarding the improvement of visa procedures with regard to Ukrainians.
Speaking about the prospects of strengthening trade and economic cooperation between the two countries, Klympush-Tsintsadze welcomed the decision of the British government to list the future trade agreement between the UK and Ukraine among its priorities for 2018-2019. "We expect to complete these negotiations successfully and as quickly as possible," she added.
ol