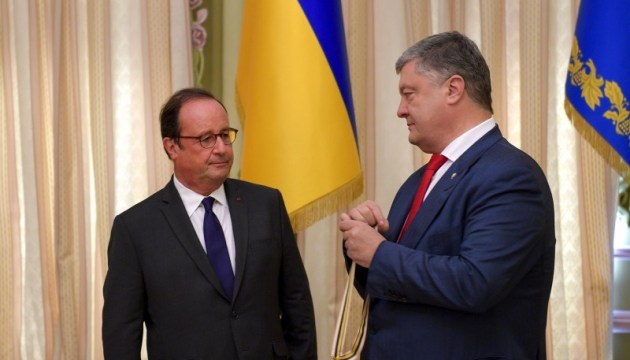 Ex-president of France Hollande convinced of the need to maintain sanctions against Russia
Former French President Francois Hollande believes that the European Union should continue to support Ukraine and maintain sanctions against Russia.
"First, the European Union should continue to support Ukraine. Second, the pressure on Russia, including the imposed sanctions, should be preserved," Hollande said at the meeting with President of Ukraine Petro Poroshenko in Kyiv, the press service of the Head of State reports.
He also assured that he supported all the efforts and any policy aimed at the implementation of the Minsk agreements.
"Given the role I was destined to play in the conclusion of these agreements, I still feel great responsibility for their implementation," the ex-president of France said.
In addition, Hollande noted that his decision on [failure to deliver to Russia] Mistral warships had been criticized inside France.
"However, it was a signal I had to send to present Russia with a need to be responsible. We could not support the country at the time when it resorted to aggression," he said.
In turn, Poroshenko thanked Holland for his role in the Normandy format negotiations and the imposition of sanctions against the Russian Federation.
ol