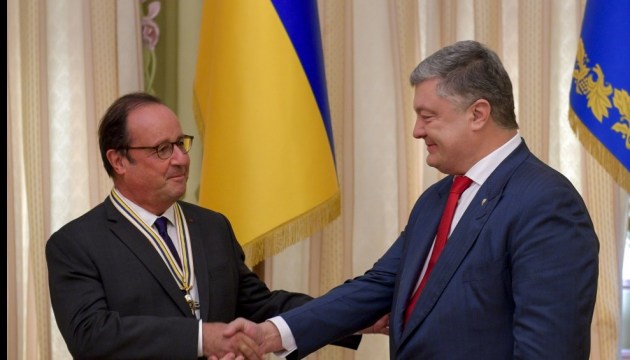 Poroshenko decorates Hollande with Order of Liberty
Ukrainian President Petro Poroshenko has handed over the Order of Liberty to former French President Francois Hollande.
The head of the Ukrainian state wrote this on his Facebook page.
"I have the honor to bestow on Francois Hollande a high state award of Ukraine - the Order of Liberty. This top state award marks our endless gratitude for the principled position that Francois Hollande assumed in supporting our sovereignty, territorial integrity, and independence," Poroshenko said.
He noted that Hollande's memories of the Minsk Process in 2015 in his book "Les lecons du pouvoir" reflect this complex and responsible mission. "Once the Ukrainian translation is published, we will be very happy to make a presentation of this book with the participation of Mr. Hollande," Poroshenko added.
op