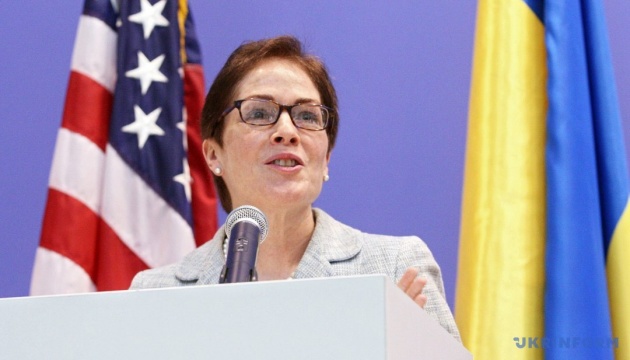 U.S. Ambassador pledges continued support to new anti-corruption bodies of Ukraine
The activity of the National Anti-Corruption Bureau of Ukraine (NABU) is extremely important for the future of Ukraine.
"The National Anti-Corruption Bureau is at the forefront of the fight against corruption in Ukraine. The challenges you face make your work even more important since it is about building a new Ukraine - stable, efficient and democratic," U.S. Ambassador to Ukraine Marie Yovanovitch said during a meeting with the agency's staff, the NABU press service reports.
Yovanovitch recalled that her country had supported the new law enforcement agencies from the very beginning. This support will be continued, the ambassador assured.
"The NABU is going through a stage of formation and development. It is very difficult, but I know that you will cope with it. The Ukrainian people gave you a mandate to prosecute corrupt officials. There have been many victories for these several years as 155 criminal proceedings have been completed and submitted to court. You investigate the cases against powerful and some of the most corrupt individuals in this country. We are aware of the pressure you are under, and sometimes it's not just pressure, but a real danger," the ambassador said.
Responding to questions from NABU staff regarding the assessment of the process of creation of the High Anti-Corruption Court in Ukraine, Marie Yovanovitch expressed her conviction that the new body will be formed according to the principles of openness and transparency. In this context, she called the involvement of international experts in the creation of the High Anti-Corruption Court a positive step.
ol