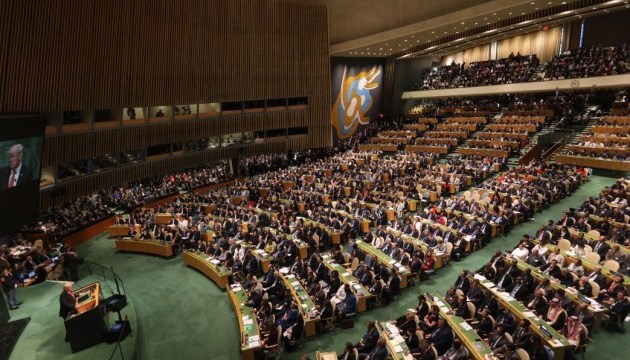 Poroshenko calls on UN to stop Russia's attempts to occupy Sea of Azov
Russia continues its aggressive offensive, using for this purpose chemical weapons, hybrid war tools, occupation of land areas of neighboring states, and now the waters of the Sea of Azov.
Ukrainian President Petro Poroshenko said this in the session hall of the UN General Assembly in New York on Wednesday, according to an Ukrinform correspondent.
"It is due to the lack of relevant punishment [for criminal actions] that after Georgia came Ukraine, that after Litvinenko came Skripals, that after Aleppo came Idlib… Kremlin has no intention to stop. After occupation of Crimea, it aims now at occupation of the Sea of Azov between Ukraine and Russia," the Ukrainian leader said.
He stressed that having illegally constructed a bridge across the Kerch Strait, Russia launched a systematic disruption of freedom of international navigation through the Kerch Strait for Ukrainian and foreign ships.
"Such brutal actions must be rejected as illegal, including under the UN Convention on the Law of the Sea. They require a strong response, including an enhanced sanctions policy and other targeted measures," Poroshenko said.
He noted that in order to build peaceful, equitable and sustainable societies, it is necessary to protect the UN Charter, uphold its norms and principles, and take resolute action to restore justice.