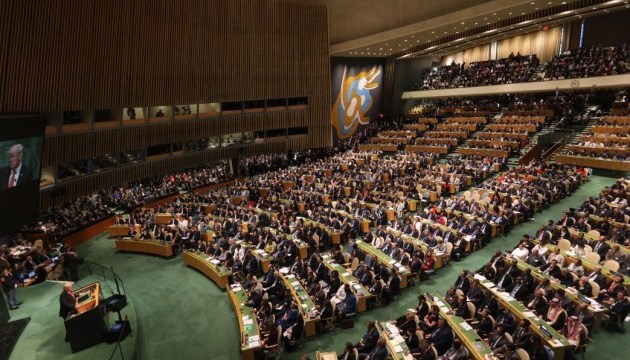 Poroshenko at UN: Russian aggression is a daily reality for Ukrainians
Ukrainians die in the frontline of Russia's armed aggression and suffer from artificial environmental disasters, protecting not only their native land, but also the world from new imperialist attacks by Russia.
Ukrainian President Petro Poroshenko said this in the session hall of the UN General Assembly in New York on Wednesday, according to an Ukrinform correspondent.
"Moscow turns Ukrainian to orphans. It tortures our patriots in its prisons. Over 1.5 million people became internally displaced persons," the Ukrainian leader said.
He stressed that Russia continuously multiplies the human tragedy, which lately received a new dimension: ecological.
"It poisons the Ukrainian soil and causes an environmental disaster not only in the occupied Crimea, but in Donbas as well," Poroshenko said.
According to him, Russian aggression has been a daily reality for Ukrainians for four years now, which led to thousands of deaths, destruction, displacement and human suffering.
"Ukraine made a sovereign decision to live its way and promote the Free World based on democratic values and rules. Russia punishes Ukraine for this decision.It kills. It ruins homes. It lies on industrial scale," Poroshenko said.
The president noted that Moscow pretends that Ukraine, as well as Georgia, "attacked themselves."
"Do we know which neighbor of Russia will 'attack itself' next? Or will the world be 'comfortably numb' in a hope that 'the next one won't be me'?" the head of state said.
"As we defend Ukraine's land and our free choice, as we counter the resurging neo-imperialist power willing to divide the world anew – we defend the Free World," he said.
In this regard, Poroshenko stressed that the United Nations should not be silent, when the values and principles rooted in its Charter and the entire body of international law are being violated by a veto country.
"This is not just a challenge, but our chance to make the United Nations relevant and to make the motto of this Assembly session work," Poroshenko said.