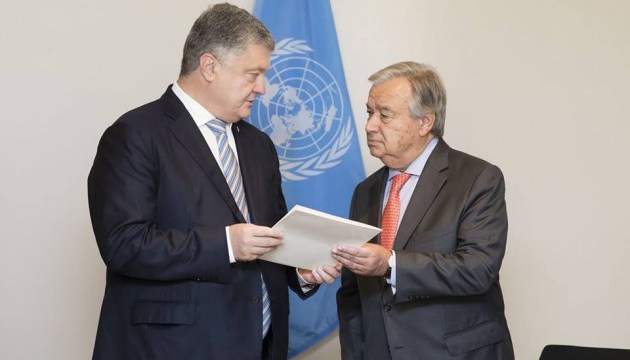 Poroshenko hands UN chief a note on ending Ukraine's 'friendship' with Russia
Ukrainian President Petro Poroshenko has handed over to UN Secretary-General Antonio Guterres a note on Ukraine's decision not to extend the treaty on friendship with Russia.
Ukrainian presidential press secretary Svyatoslav Tsegolko wrote this on his Facebook page.
"Our note will be circulated as an official document of the UN General Assembly and the UN Security Council," Tsegolko said.
The General Debate of the 73rd session of the UN General Assembly involving heads of state and government started at UN headquarters on Tuesday. The Ukrainian delegation is headed by President Poroshenko.