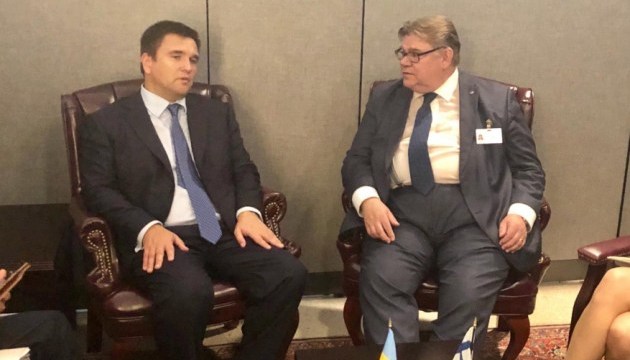 Klimkin thanks Finland for supporting Ukraine
Ukrainian Foreign Minister Pavlo Klimkin has met with Finnish Foreign Minister Timo Soini at the 73rd session of the UN General Assembly.
"Pavlo Klimkin thanked his Finnish colleague for the continued support of the Finnish side for Ukrainian initiatives within the UN aimed at countering Russian aggression, in particular, when adopting the resolutions of the UN General Assembly on the territorial integrity of Ukraine, the state of observance of human rights in the occupied Crimea, and the inclusion of the item "Situation in the temporarily occupied territories of Ukraine" into the agenda of the current session of the UNGA," the Ukrainian Foreign Ministry reported.
In addition, the ministers discussed the ongoing aggression of the Russian Federation against Ukraine and the Russian side's failure to comply with the Minsk agreements, as well as the need to increase pressure on the aggressor to release political prisoners and prevent further provocations by Moscow against Ukraine.
ish