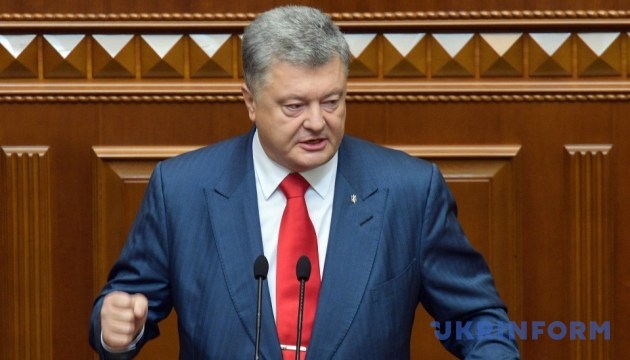 Ukraine has become stronger over past four years - Poroshenko
Ukrainian President Petro Poroshenko has said he is confident that Ukraine has become stronger and more stable over the past four years, but Ukrainians are fairly dissatisfied with the fact that the war did not end and the territorial integrity of the state was not restored.
He stated this, speaking in the Verkhovna Rada with an annual message on the internal and external situation of Ukraine, an Ukrinform correspondent reports.
"The epithets by which we characterize the external and internal situation depend on where we are, in power or in opposition. With all the current challenges and threats the dynamics is obvious - the situation inside Ukraine and around us is not as dramatic and threatening as it was in 2014 or 2015. We became more stable and stronger, but first of all I would like to frankly emphasize the fact with which most of the society is objectively dissatisfied. We failed to end the war and restore the country's territorial integrity," Poroshenko said.
He stated that as a result of Russian aggression Ukraine had lost 20% of its industrial potential, which, of course, provoked the domino effect for the whole economy, and, together with Russia's closure of its market for Ukrainian goods, it caused a profound social crisis.
"We have held out and resumed growth, but most Ukrainians have not yet felt welfare improvements, and the standard of living is being restored slowly and unevenly, both in regions and in social and age groups. Pensioners remain especially vulnerable," Poroshenko said.
op