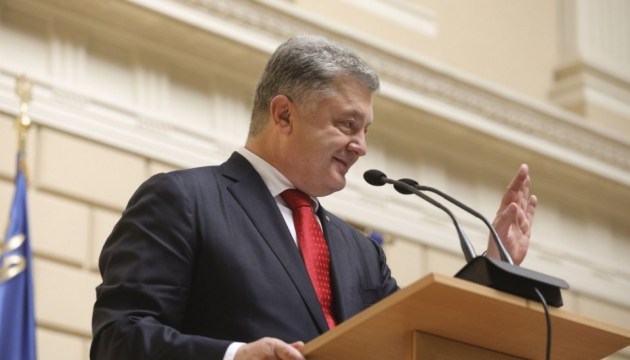 Ukraine needs legislation regulating status of Ukrainian as state language - Poroshenko
Ukraine needs the legislative settlement of all issues related to the status of Ukrainian as a state language, President Petro Poroshenko has said.
He said this at the 25th Publishers Forum in Lviv on Wednesday, an Ukrinform correspondent reports.
"We face an extremely important task - to ensure the development and functioning of Ukrainian as a state language in all spheres of public life and throughout Ukraine, as well as increasing the role of the Ukrainian language as a consolidating factor in Ukrainian society, as a means of strengthening national unity," Poroshenko said.
The head of state stressed the need to legislatively resolve all issues related to the status of Ukrainian as a state language. "Moreover, we need an active position of the society aimed at expanding the sphere of functioning and application of the Ukrainian language, implementing all provisions of language legislation without exception," he said.
Poroshenko said that the state would support Ukrainian book publishing.
"Surveys show that we love our Ukrainian language, we want to hear it, and we want to speak it. It has become exciting, fashionable. We should definitely support this trend, because the Ukrainian language has to sound everywhere in full voice, and not only inside the country. It will reveal its potential most fully and is developing its future exactly in the printed form," he added.
At the same time, the president noted that today the quality and effectiveness of state support in the field of Ukrainian book publishing were not yet satisfactory. "We need incentives to encourage authors and performers to create a high-quality book and to meet the demands of a very exacting Ukrainian and European reader," Poroshenko added.
op