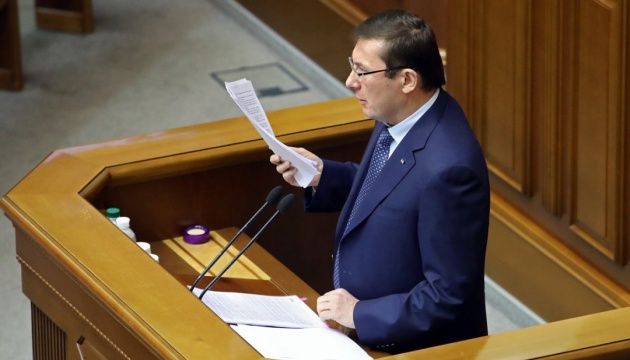 Prosecutor general submits motions against MPs Vilkul, Dunayev, Kolesnikov
Ukrainian Prosecutor General Yuriy Lutsenko has again submitted to the Verkhovna Rada the motions against MPs Oleksandr Vilkul, Serhiy Dunayev and Dmytro Kolesnikov, his spokesperson, Larysa Sarhan, has said on Facebook.
"As the prosecutor general promised, with the beginning of the new season in parliament motions have been submitted again against three people's deputies - Vilkul, Dunayev and Kolesnikov," she wrote.
Sarhan added that the Verkhovna Rada committee on rules of procedure should consider these motions and they should then be put to the vote in the session hall together with the fourth motion against MP Oleksandr Ponomariov, which has already been considered by the committee.
The Verkhovna Rada committee on rules of procedure at its last session returned to Verkhovna Rada Speaker Andriy Parubiy the motions for the removal of parliamentary immunity from Opposition Bloc MPs Oleksandr Vilkul, Dmytro Kolesnikov, Serhiy Dunaev, as well as a motion against Will of the People group deputy Oleksandr Ponomariov.
On May 25, Lutsenko submitted motions against Vilkul and Kolesnikov. Former Head of Dnipropetrovsk Regional State Administration Vilkul is suspected of land scams, while Kolesnikov is suspected of abusing office as head of the State Property Agency. The Prosecutor General's Office suspects Dunayev of the declaration of untrue information.
The motion against Ponomariov was submitted due to the obstruction to the work of journalists.
op