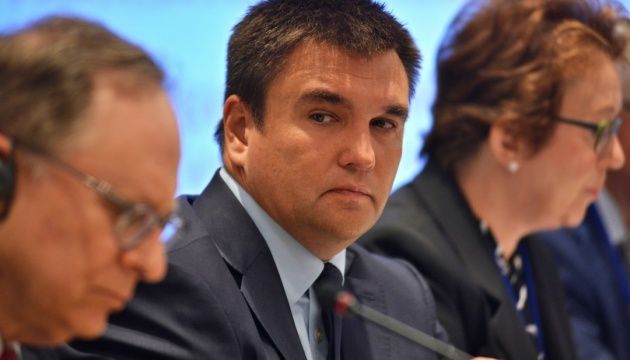 Ukraine has a clear plan for revision of all contracts with Russia - Klimkin
Ukraine has a clear plan for revision of all contracts with Russia and is already making their inventory, but will do so in such a way as not to damage Ukraine's position in international trials with Russia.
Ukrainian Foreign Minister Pavlo Klimkin told this to journalists on the sidelines of the 7th Euro-Atlantic Forum in Kyiv on Monday, an Ukrinform correspondent reports.
"The inventory of contracts with the Russian Federation is being carried out, but this does not mean that we will work on an emotional basis for a full revision of our legal framework. This will always be a strategy," Klimkin said.
In this context, he recalled that Ukraine had not terminated the treaty on friendship with Russia, as it worked for the country in all processes, ranging from the Stockholm arbitration court to "Yanukovych's three [billion dollars] [the trial in London on the political nature of a Russian loan worth $3 billion]."
"It will be the same with other contracts, and it will also be the same with the agreement on the Sea of Azov. Of course, it will not work in the future. However, when we do it is a matter of a clear strategy, but it's one hundred percent that the entire contractual framework with Russia will be gradually revised completely," Klimkin said.
He said that each agreement or contract includes a clause on its termination.
"We have an internal plan, but if we announce it now, Russia will certainly use it against us in our litigation. This plan will be presented politically on every treaty or on a block of contracts," Klimkin said.
op