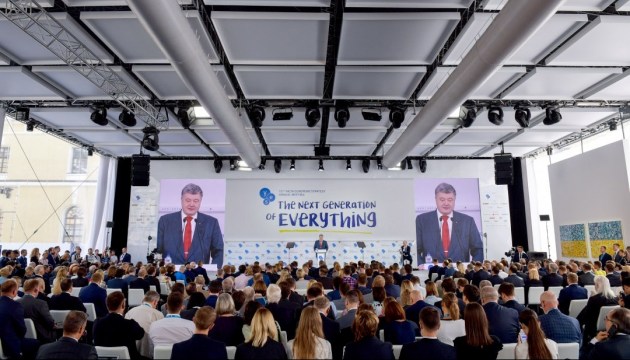 EU as historical project can be completed only with Ukraine - Poroshenko
The European Union, as a historical project, can be completed only with Ukraine, since the country's northeastern border is the border of modern European civilization.
Ukrainian President Petro Poroshenko said this at the 15th Annual Meeting of Yalta European Strategy (YES) in Kyiv on Friday, an Ukrinform correspondent reports.
"Ukraine is an EU optimistic country with a unique belief in Europe. As for the European Union, I want to emphasize that this grandiose project can be accomplished and completed only with Ukraine since it is not the Urals, but our northeastern border that is the border of modern European civilization. The Ukrainian border, not the Urals," the head of state said.
In this context, he recalled events in Russia last Sunday, when the police "beat children all over the country" and the leader of a parliamentary faction beat the protesters.
"Profound political and cultural differences are also the reason why we have to finally separate with the empire, to finally come out of the sphere of Russian influence," Poroshenko said.
He stated that in this historical process Ukraine lags behind its neighbors and has not yet fully and completely eliminated its post-colonial status.
"The final victory in this struggle will be our accession to the European Union and NATO. I am not a romantic and clearly understand that this goal is not yet close, and it would be a big mistake to call the date for its achievement. The war and resistance of the old regime forces made time adjustments in our strategy, but I want to emphasize that they did not affect its content," he said.
op