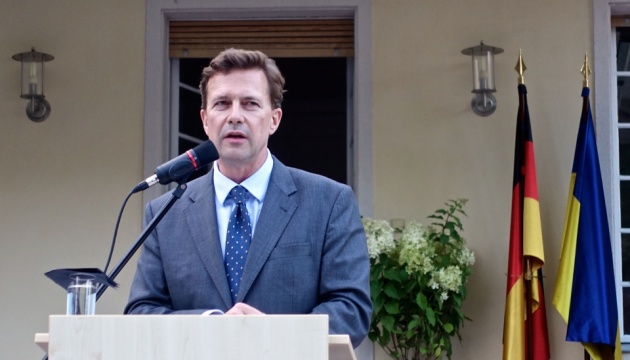 Germany will do all to achieve peace in Ukraine - Seibert
Germany sees Ukraine as an important partner and will continue to make efforts to support the country on its path to stabilization and reform.
German State Secretary Steffen Seibert said this on Tuesday, September 11, at a reception on the occasion of Ukraine's Independence Day and the 100th anniversary of diplomatic relations between Ukraine and Germany.
"There is probably no government of any country outside the EU, with which we would work as intensively as with Ukraine," Seibert said.
German Chancellor Angela Merkel, according to him, has already become an expert on Ukraine, and the same applies to all German foreign ministers in recent years. Seibert expressed regret that the reason for such an intensity of relations lied mainly in the fact that in 2014 Ukraine became a victim of Russian aggression and annexation of Crimea, supported with military means.
"The federal government knows how much people all over Ukraine, primarily in Donetsk and Luhansk, want peace, and the Minsk agreements are the only condition to achieve it," Seibert said.
These documents have not yet brought peace, but they did not allow the war to spread to other regions, he said.
"The chancellor, the foreign minister, their advisers continue to work many hours a week in the Normandy format along with Russia and France," the government spokesman said.
Seibert expressed great respect for the fact that Ukraine, with a deadly conflict in its territory, has the strength to carry out reform, fight corruption and meet its European expectations. Germany will continue to remain a reliable partner on this path, he said.
Ukraine's Ambassador to Germany Andriy Melnyk, in turn, noted that Germany, like a hundred years ago, remains Ukraine's key partner and ally. He thanked the country's leadership for efforts to achieve peace in the Donbas, for supporting reforms in Ukraine, and for EUR 1.7 billion in investment, which created tens of thousands of jobs.
The diplomat also drew attention to the intensity of contacts - 13 visits by Ukrainian President Petro Poroshenko to Germany, more than 60 of his telephone conversations with Chancellor Merkel.
The guests of the Ukrainian ambassador were 60 members of the Bundestag from various factions, representatives of ministries and departments, the public, and diplomats.
op