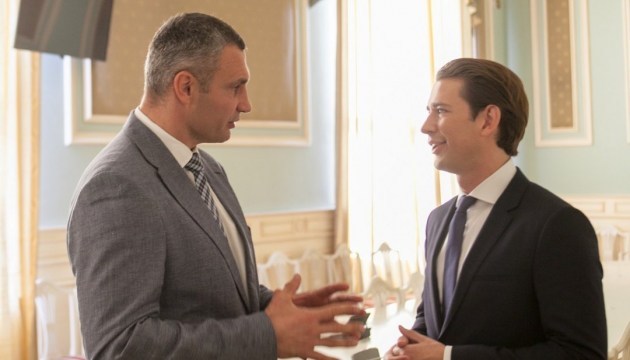 Kyiv mayor Klitschko asks Austrian chancellor Kurz to assist in releasing Kremlin's prisoners
Kyiv city mayor Vitali Klitschko has met with Austrian Federal Chancellor Sebastian Kurz, who arrived in Kyiv on an official visit.
In particular, Klitschko thanked for supporting European aspirations of Ukraine and highlighted the importance of extending EU sanctions against Russia, the press service of the Kyiv City State Administration reports.
"It became known yesterday that the EU diplomats had approved the decision on prolongation of sanctions against Russian politicians and separatists in Crimea and in Donbas. We are waiting for the promulgation of this decision, which is important for deterring Russia's further aggression. We also ask for support in putting pressure on Russia with a view to release Ukrainian political prisoners held in Russia and Ukrainian prisoners of war," Klitschko said.
Sebastian Kurz, the chancellor of Austria, which currently presides over the Council of Europe, assured that the EU understood the importance of deterrents and pressure on the Russian Federation.
"We support sanctions and continue the economic pressure on Russia. And, yes, we know the names of political prisoners and insist on their release," Sebastian Kurz said.
After a formal meeting at the Kyiv City State Administration, the Kyiv city mayor and the Austrian chancellor strolled along the Khreshchatyk Street to the Independence Square and the Heavenly Hundred Heroes' alley. They visited the Memorial to the Heroes of the Heavenly Hundred.
Кличко з канцлером Австрії Курцем прогулюються Хрещатиком на Майдан Незалежності. pic.twitter.com/0QoceXC0VG

— Oksana Zinovieva (@zin0ksana) 4 сентября 2018 г.
ol