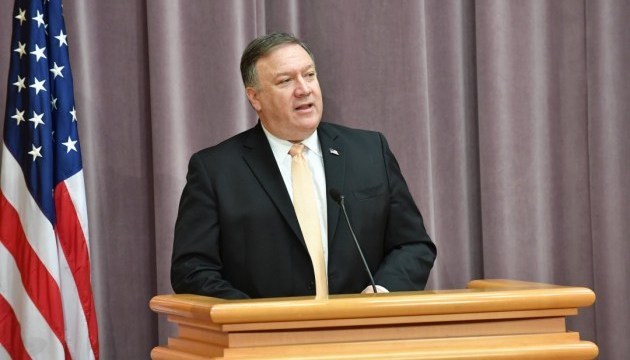 Pompeo in phone conversation with Lavrov speaks about Oleg Sentsov
The United States of America has called upon the Russian Federation to immediately release Ukrainian film director Oleg Sentsov.
U.S. Secretary of State Mike Pompeo said this during a telephone conversation with Russian Foreign Minister Sergei Lavrov, Spokeswoman of the U.S. Department of State Heather Nauert told on Thursday.
"I can confirm that Secretary Michael R. Pompeo spoke with Russian Foreign Minister Sergei Lavrov about Ukrainian political prisoner Oleg Sentsov, who has been on a hunger strike for more than three months in a Russian prison. The Secretary noted our concerns about Sentsov's health and urged Russia to immediately release Sentsov and all Ukrainian political prisoners," Nauert said.
The diplomats also discussed the ongoing challenges in Syria and the United States' serious concerns related to possible military activity in Idlib. "In addition, Secretary Pompeo asked Foreign Minister Lavrov to support efforts in the Organization for the Prohibition of Chemical Weapons, as well as efforts to hold the Syrian regime accountable for its use of chemical weapons," the spokeswoman said.
Sentsov was detained by Russian security services in Crimea in May 2014.
He was sentenced to 20 years in a penal colony in Russia for alleged "plotting acts of terrorism."
On May 14, 2018, he declared a hunger strike demanding the release of all Ukrainian political prisoners of the Kremlin.
On August 8, Sentsov's sister Natalia Kaplan said that his condition is "catastrophically bad".
About 70 Ukrainians are political prisoners in Russia and in the occupied Crimea. This list also includes Ukrinform journalist Roman Sushchenko, who was sentenced to 12 years of imprisonment in a high-security penal colony on fabricated charges of "espionage."
ish