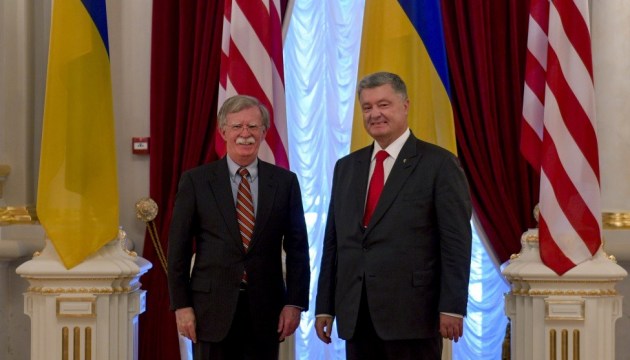 John Bolton stresses that U.S. will never recognize annexation of Crimea
The United States does not recognize Russia's annexation of Crimea, and U.S. President Donald Trump confirmed this during a meeting with Russian President Vladimir Putin in Helsinki.
U.S. President's National Security Adviser John Bolton said this during a meeting with President of Ukraine Petro Poroshenko today, August 24, an Ukrinform correspondent reports.
"I believe that President Trump drew attention to solidarity and our support for independent Ukraine. You spoke about the declaration that we adopted on non-recognition of the illegal annexation of Crimea. This all goes back to the American tradition of non-recognition of illegal annexations, beginning from 1931-1932 when Japan's annexation of Manchuria was not recognized, and the declaration of 1940 when the annexation of the Baltic republics was not recognized. This is a political signal from our side, which is of great importance. And we were happy to confirm this once again during the meeting between Presidents Trump and Putin in Helsinki," Bolton said.
He stressed that it was extremely important for the United States to strengthen the relations between our states.
Trump's National Security Adviser John Bolton visits Ukraine as part of his tour to Europe and the Middle East.
John Bolton also took part in the military parade on the occasion of the 27th anniversary of Ukraine's Independence today.
ish