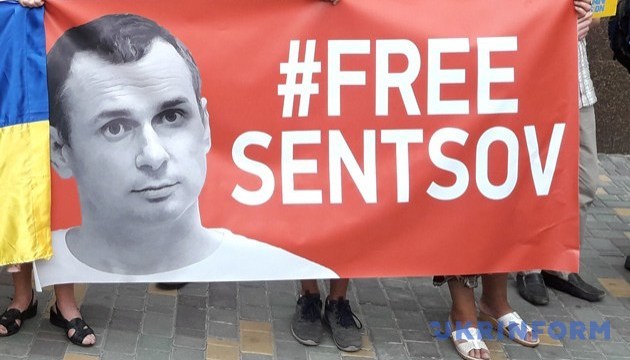 Latvian Foreign Ministry urges Russia to immediately release Oleg Sentsov
The Ministry of Foreign Affairs of the Republic of Latvia has joined numerous calls to the Russian Federation to release illegally convicted Ukrainian film director Oleg Sentsov.
This was stated in a statement published on the website of the Foreign Ministry of Latvia on August 22.
"Latvia joins repeated calls from the officials and cultural figures of democratic countries across the globe and reiterates its demand on Russia to release, immediately and unconditionally, the unlawfully convicted Oleg Sentsov. Ukrainian filmmaker Oleg Sentsov is already past the 100th day of his hunger strike. His health is rapidly deteriorating, and every next day in prison is bringing the Ukrainian film director closer to the critical point," the statement reads.
The Latvian Foreign Ministry reminded that "Russia must comply with its commitments in the field of international law and human rights".
Sentsov was detained by Russian security services in Crimea in May 2014.
He was sentenced to 20 years in a penal colony in Russia for alleged "plotting acts of terrorism."
On May 14, 2018, he declared a hunger strike demanding the release of all Ukrainian political prisoners of the Kremlin.
On August 8, Sentsov's sister Natalia Kaplan said that his condition is "catastrophically bad".
About 70 Ukrainians are political prisoners in Russia and in the occupied Crimea. This list also includes Ukrinform journalist Roman Sushchenko, who was sentenced to 12 years of imprisonment in a high-security penal colony on fabricated charges of "espionage."
ish