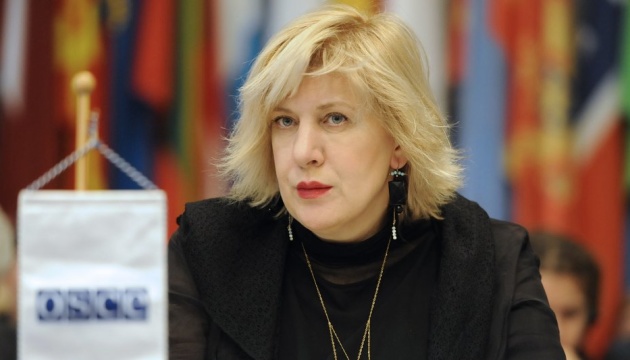 Commissioner Dunja Mijatović asks for urgent measures to address situation of prisoners in Russia and Ukraine
The Council of Europe Commissioner for Human Rights, Dunja Mijatović, has written letters to Ukrainian Foreign Minister Pavlo Klimkin and Russian Foreign Minister Sergey Lavrov concerning the situation of several prisoners and detainees in both countries.
She called upon the authorities of the Russian Federation and Ukraine to do their utmost and to address, as a matter of urgency, the most compelling needs of these individuals, with a view to preventing any further deterioration of their situation which may lead to irreversible consequences, the press service of the Council of Europe reported.
"I am writing to you concerning the situation of several persons who have been detained/imprisoned by the respective authorities in the Russian Federation and Ukraine since 2014. It is my firm belief that effectively safeguarding the human rights of those persons requires undertaking all necessary efforts aimed towards a satisfactory resolution of their situation, including through their release on humanitarian grounds. I understand that the situation of some of these individuals is particularly alarming and requires urgent action due to serious concerns related to their health and other issues," Dunja Mijatović wrote in the letter dated August 9 to Sergey Lavrov.
The commissioner reminded that on June 9 a telephone conversation took place between the presidents of Ukraine and Russia, during which an agreement was reached to involve the national ombudspersons with a view to jointly resolving the above-mentioned issues of concern in a spirit of co-operation.
"I fully welcomed such co-operation between the ombudspersons, and offered, during my recent contacts with each of them, to provide any possible assistance to support their joint work," Mijatović wrote, stressing that she continued to monitor the situation.
Today is the 100th day since the beginning of the indefinite hunger strike of Ukrainian film director Oleg Sentsov, announced on May 14, 2018, demanding the release of all Ukrainian political prisoners of the Kremlin.
About 70 Ukrainian political prisoners are currently held in Russia and in the occupied Crimea.
ish