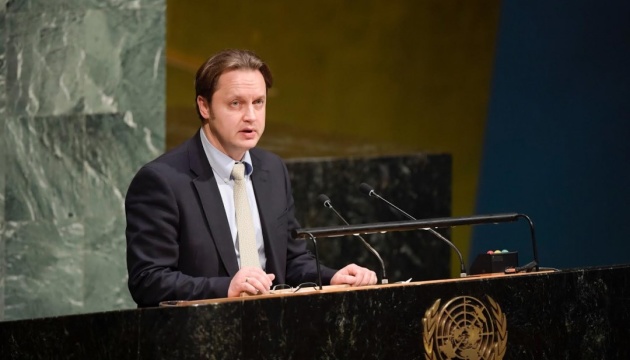 Ukraine in UN calls for stepping up pressure on Russia over its aggression
The international mechanisms of influence, including sanctions against Russia, should be strengthened until Moscow stops aggression against the neighboring countries and its attempts to undermine the international law and the world order.
"The international community should combine diplomatic tools with much stronger targeted sanctions and isolation of Russian political leaders and oligarchs. After all, we all know that it is only the language of strength that Russia understands," Deputy Permanent Representative of Ukraine to the UN Yuri Vitrenko said during the roundtable dedicated to the 10th anniversary of start of Russia-Georgia war, an Ukrinform correspondent reports.
He also urged UN to "be more involved" in contributing to the resolution of conflicts initiated by Russian in Georgia, Ukraine, Moldova and other places.
"Despite the existence of relevant mechanisms like Geneva International Discussions, Normandy Format or Trilateral Contact Group, the UN Security Council and General Assembly should take a much stronger position on the conflicts and increase their pressure on Russia, the Ukrainian diplomat stressed.
But what is even more crucial, he added, is for the international community to be consistent and consolidated in the face of Russia's occupation and annexation policy to ensure peaceful conflict resolution and prevention of similar conflicts in the region and around the globe.
"The first step should be de-occupation of the Georgian and Ukrainian territories, reversal of recognition of the so-called independence of Abkhazia and South Ossetia, and implementation of all other obligations of Russia under existing agreements," the Deputy Permanent Representative of Ukraine to the UN underscored.
Vitrenko also reminded that the Russian Federation as an occupying power had relevant obligations under the international law towards the population of Crimea, Donbas, Abkhazia and South Ossetia.
"It [Russia] is fully responsible for the consequences of its internationally wrongful acts and will pay for the harm caused," the diplomat stressed.
ol