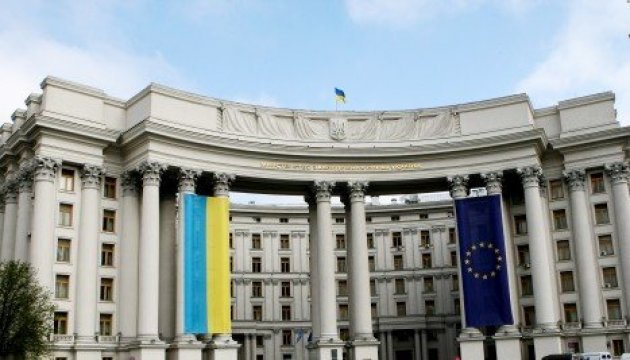 Foreign Ministry hands over note to Hungarian diplomat over Orban's remarks on Ukraine
The Ukrainian Foreign Ministry has expressed a strong protest due to a number of unfriendly steps taken by Budapest and stressed the need to stop actions that have a negative effect on bilateral relations, the ministry's press service has reported.
"Hungary's Charge d'Affaires in Ukraine Laszlo Pop was summoned to the Ukrainian Foreign Ministry on July 31. A strong protest was expressed to the Hungarian diplomat due to a number of unfriendly steps taken by Budapest in relation to Ukraine and stressed the need to stop actions that negatively affect bilateral relations," reads the report.
The ministry emphasized at the meeting the unacceptability of the latest statements made by Hungarian Prime Minister Viktor Orban regarding the European integration and Euro-Atlantic aspirations of Ukraine, which are substantially dissonant with the policy of the European Union and largely reflect the approaches of the aggressor country.
The Hungarian diplomat was also given a note requesting official clarifications in connection with the decision of the Hungarian government to create the post of an authorized minister responsible for the development of Zakarpattia region and a program for the development of kindergartens in the Carpathian basin, since the minister's sphere of competence includes part of the sovereign territory of Ukraine.
"Despite the constructive approach of the Ukrainian side in addressing the existing problems, Hungary's recent actions show a choice of confrontation instead of cooperation, as well as direct interference in Ukraine's internal affairs," the ministry said.
As reported, Orban, speaking at the University of Romania on July 28, expressed doubt that Ukraine's aspirations to join the EU and NATO are realistic. According to him, Russia's desire to restore the old order will stand in the way.
op