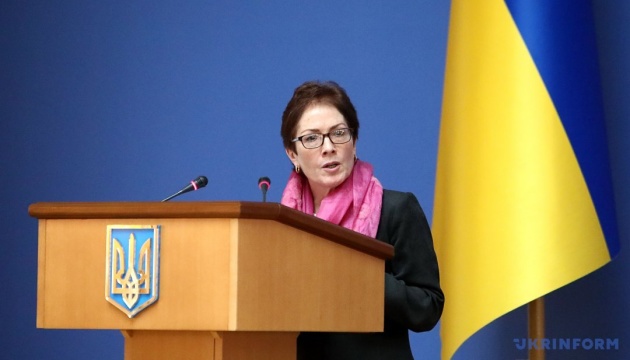 U.S. ready to support Ukraine on path to NATO standards
The United States commends the Ukrainian military's desire to achieve NATO standards and plans to provide assistance to Ukraine.
U.S. Ambassador to Ukraine Marie Yovanovitch said this during a discussion at the Kyiv Security Forum "What to Expect of the 2018 NATO Summit?" in Kyiv on Tuesday, according to an Ukrinform correspondent.
"Ukraine has a capable military. We have seen how it transformed itself over the last four years. And we would expect to see the same kind of evolution over the next four years as well. The Ukrainian military has set a very high bar for itself - to achieve NATO standards by 2020. We want to do everything that we can to support Ukraine in meeting that goal," the diplomat said.
She also noted that Ukraine's reform efforts, in particular, the law on national security, which "is a framework law for the national security architecture in Ukraine," are very important.
"The next step is even harder. It's implementing the reform setting, moving forward with other legislation and making the Ukrainian military truly not only look like a NATO military, but being as capable as a NATO military. And I would say that through that process that is what moves the country toward being closer to NATO and to, perhaps, eventually NATO membership," the ambassador said.
op