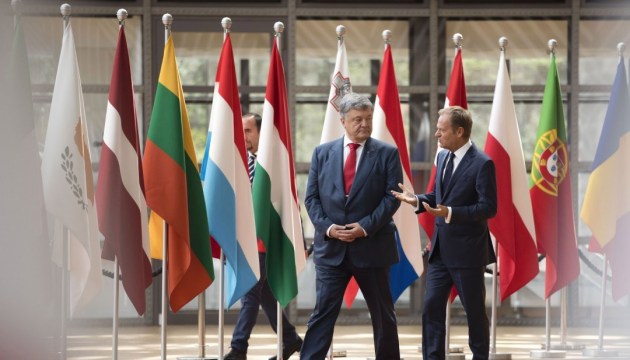 EU leaders recognize significant progress in Ukrainian reforms - statement
Leaders of the European Union have recognized a significant progress of reforms in Ukraine.
This is stated in a joint statement made by President of the European Council Donald Tusk, President of the European Commission Jean-Claude Juncker and President of Ukraine Petro Poroshenko following the 20th EU-Ukraine Summit in Brussels on July 9.
"We recognized the substantial progress made by Ukraine in its reform process, which is essential both to meet the demands of Ukraine's citizens and to strengthen Ukraine's resilience to the external challenges it faces," the document reads.
The statement once again confirmed the EU's continued support for Ukraine's reform efforts, linked to effective implementation of reforms and policy measures.
"We welcomed the progress on reforms that Ukraine presented at the Ukraine Reform Conference in Copenhagen on June 27, and agreed that the pace of reforms should be maintained, including during the upcoming pre-election period," the report reads.
The EU leaders also agreed on the importance of continuing and accelerating reform efforts, in particular in the fight against corruption, which is a concern for Ukraine's citizens and businesses.
"We welcomed the substantial increase in bilateral trade flows and the effective implementation of the visa-free regime, contributing to deepening relations between our societies," they said.
In this context, the EU leaders acknowledged the European aspirations of Ukraine and welcomed its European choice, as stated in the Association Agreement.
"We welcomed the launch of a number of important reforms since our last Summit to improve the living standards of Ukraine's citizens, notably in the areas of health and pensions. Good progress has been achieved on structural reforms in the field of decentralization and public administration, as well as in public procurement and environmental reforms. We also welcomed the adoption of the law on privatization and efforts for improved governance and transparency of State Owned Enterprises. We welcomed the progress made on the law on national security, took note of its adoption and looked forward to its implementation," the statement reads.
ish