Poroshenko opens in Poland memorial to Ukrainians killed in 1944
Ukrainian President Petro Poroshenko during his visit to Poland took part in the opening in the village of Sahryn of the memorial of remembrance to Ukrainians who were killed by Polish "peasant battalions" and units of the Home Army in 1944, the press service of the head of state has reported.
The official opening ceremony was broadcast by Ukrainian TV channels.
"Our first human and Christian duty is to remember the innocent victims and do our best so that our peoples could not see enmity and confrontation any longer," the president said, speaking about the importance of opening the memorial.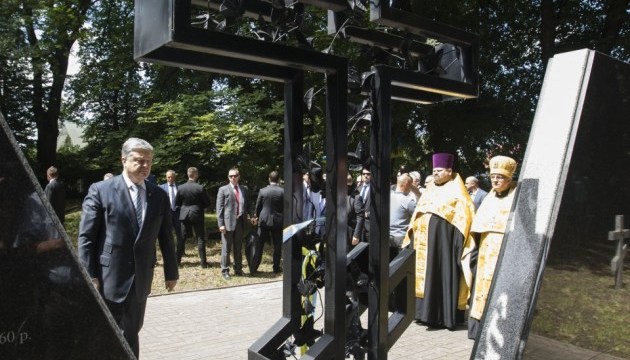 He recalled that more than 70 years ago, Ukrainians living in Sahryn and adjacent villages had fallen to a brutal armed operation, which was made by separate units of the Polish underground against civilians.
"And today we are here to praise with our common prayer the memory of hundreds of children, women, men, elderly people, who died simply because they called themselves Ukrainians, because they went to another church. And together with them we remember all those who were innocently killed," Poroshenko said.
Those present honored the memory of the dead with a minute of silence.
The head of state also laid flowers at the memorial. A memorial service for the dead was also held near the memorial.
President Petro Poroshenko was on a working visit to Poland on Sunday, July 8, at the invitation of the Ukrainian community of this country.
op