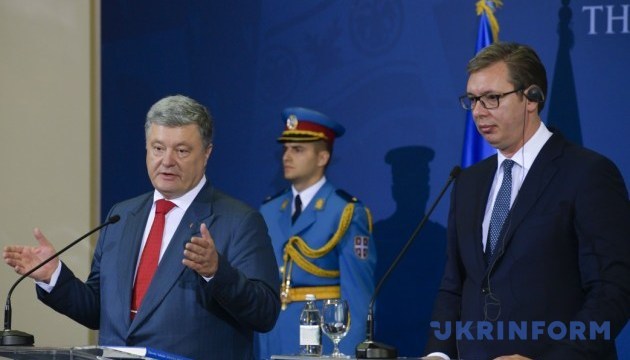 Ukraine counts on Serbia's support for UN peacekeeping mission in Donbas - Poroshenko
Ukraine hopes that Serbia will support a decision to deploy a UN peacekeeping mission in Donbas.
President of Ukraine Petro Poroshenko said this during a joint press conference with President of the Republic of Serbia Aleksandar Vučić in Belgrade, the press service of the Ukrainian president reported.
"We definitely count on Serbia's support for the deployment of a peacekeeping mission under the mandate of the United Nations Security Council. We are confident that the clear implementation of the Minsk agreements, including the priority of the security component, is now a non-alternative way of bringing peace to the Ukrainian land," Poroshenko said.
At the same time, the Ukrainian president thanked Serbia for supporting Ukraine's sovereignty, territorial integrity and independence. Poroshenko assured that Ukraine respects territorial integrity and sovereignty of Serbia.
"We did not recognize Kosovo and we proceed from the standpoint that the Kosovo problem should be resolved in a compromise way, taking into account the interests of Serbia," he added.
At the same time, the president said that "today there are no problems between the countries in bilateral relations"; Ukraine and Serbia are "very close". He added that "the states actively develop" bilateral cooperation in the economic, political, cultural, humanitarian and security sectors.
ish