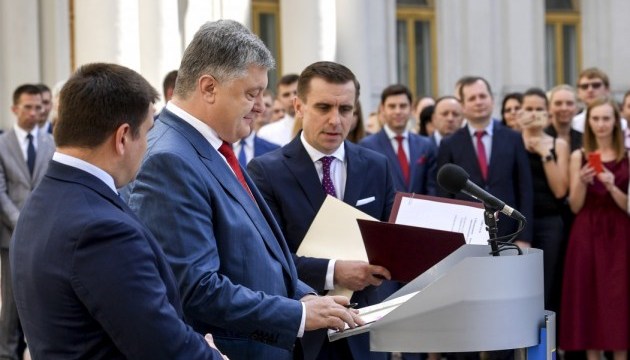 Ukrainian diplomats help keep Russia in isolation - president
The work of Ukrainian diplomats under the current conditions of Russian aggression against Ukraine is no less important than the work of military defending the state in the eastern regions.
Ukrainian President Petro Poroshenko said this on Friday at a ceremony to sign the law on diplomatic service, according to an Ukrinform correspondent.
"Right now we have proved that the work of a diplomat for the country and for the Ukrainian people is no less important than the service of a Ukrainian warrior who protects the Ukrainian land in the east of our country against Russian aggression. Ukrainian diplomats around the world currently defend Ukraine in the same way," Poroshenko said.
The head of state said that diplomats ensure the unity of the whole world and solidarity with Ukraine, making important decisions that "leave the aggressor in isolation and help restore Ukrainian sovereignty and return every piece of Ukrainian land."
The president also noted that the huge contribution of diplomats was the fact that Ukraine has united around European values and strives to return to the family of European nations.
On Friday, June 15, Poroshenko signed the law on diplomatic service, which was adopted by the Verkhovna Rada on June 7.
op