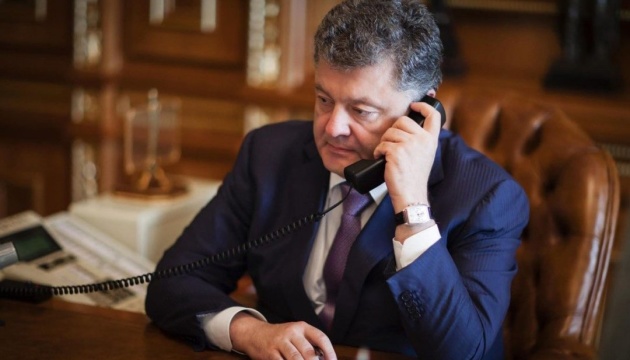 Poroshenko, Pompeo discuss strengthening cooperation in security and defense sectors
President of Ukraine Petro Poroshenko and U.S. Secretary of State Mike Pompeo have discussed strengthening of cooperation in the field of security and defense.
The Ukrainian president wrote this on Facebook.
"During a telephone conversation with U.S. Secretary of State Mike Pompeo, we discussed enhancement of cooperation in the security and defense sectors and existing challenges as a result of the implementation of Nord Stream 2," the report says.
Poroshenko also noted that during the conversation the parties coordinated positions in the context of announced conclusions on downing of MH17 flight and highlighted the importance to keep sanctions policy vis-à-vis Russia.
In addition, the Ukrainian president emphasized the importance to maintain pressure on Russia in order to release all Ukrainian hostages.
Petro Poroshenko congratulated Mike Pompeo on appointment as U.S. Secretary of State and invited him to visit Ukraine.
ish