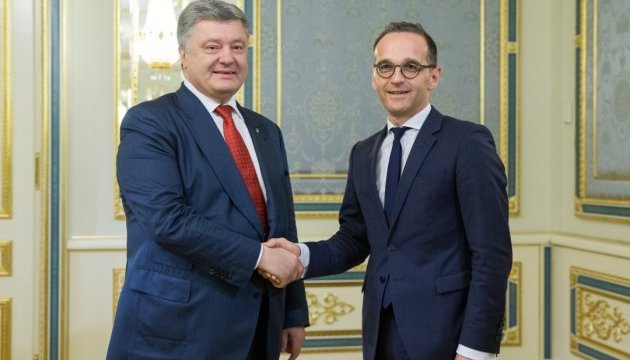 Poroshenko, Maas stress importance of deployment of UN mission in Donbas as soon as possible
Ukrainian President Petro Poroshenko has held a meeting with German Federal Foreign Minister Heiko Maas.
This was reported by the official website of the Ukrainian president on May 31.
"The presidents discussed development of the situation in Donbas and coordinated further steps to facilitate the peace process. Petro Poroshenko noted Heiko Maas' decision to visit the contact line to first-hand learn the situation caused by Russian aggression," the report reads.
The parties stressed the importance of the deployment of a multinational UN peacekeeping mission in Donbas as soon as possible, which would create a favorable condition for the implementation of the Minsk agreements. They supported the idea to consider this issue at the next meeting of Normandy foreign ministers.
Special attention was paid to the release of Ukrainian political prisoners and hostages, in particular, Oleg Sentsov and Volodymyr Balukh.
The Ukrainian president stressed that Russia remained a source of destabilization of the situation in Ukraine, as evidenced by an attempt to assassinate Russian journalist Arkady Babchenko. Poroshenko noted that it was possible to identify those who prepared the crime thanks to a successful special operation by Ukraine's law enforcement agencies.
Poroshenko also mentioned a recent report on MH17, which once again proved Russia's involvement in the downing of the aircraft. It confirmed the need not only to bring Moscow to justice, in particular through tougher sanctions, but also to develop reliable guarantees to prevent such crimes by Russia.
The Ukrainian president also stressed that the construction of Nord Stream 2 created additional risks for the security of natural gas supplies to Europe and gave an additional political advantage to Russia as the aggressor perceived it as total impunity.
The two officials also discussed preparations for the 20th Ukraine-EU Summit, which is to be held in Brussels on July 9.