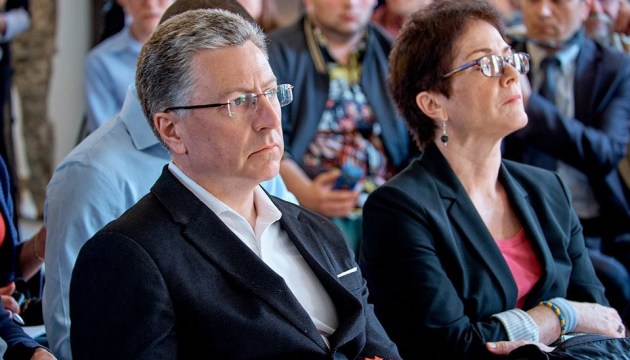 Volker: No great differences of views between Europe and allies on supply of lethal weapons to Ukraine
U.S. Special Representative for Ukraine Negotiations Kurt Volker does not see any great differences of views between Europe and European allies on the supply of lethal weapons from the United States to Ukraine.
He said this to international journalists in London, when asked about alleged disagreements between the US and the EU in the matter of providing Ukraine with the American lethal weapons, in particular, the Javelin anti-tank missiles, the U.S. Department of State reports.
"I've had multiple consultations across Europe, France and Germany as the leaders in the Normandy process with the P5 members including the UK, other Security Council members temporarily on, the European Union, NATO. And I don't detect a great deal about the vision to helping Ukraine with its self-defense capabilities," Volker said.
The UK, Canada, Poland, Lithuania, all in their own ways actively support Ukraine's defense capabilities, the diplomat noted.
He reminded that Ukraine was facing a conflict on its own territory. "I would just ask you to imagine for a minute you are at home in your own country. Your soldiers are fighting to defend the territory of your country within your own territory. And soldiers in your military are being killed at the rate of a couple a week on your own territory, trying to defend your territory against a foreign aggressor. That is an intolerable situation for any country to be in, to face that kind of pressure. And it is only reasonable for Ukraine to defend itself and for others to help them," the U.S. special representative added.
ol