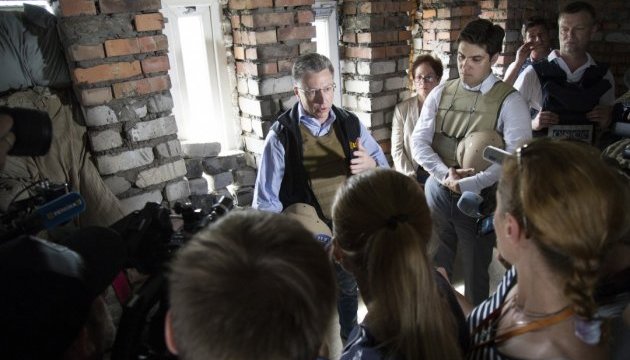 Volker: No ethnic or civil conflict between Ukrainians in Donbas
There is no ethnic or civil conflict between Ukrainians in Donbas, and the restoration of Ukraine's control over the region would be the best way to protect the Russian speakers.
U.S. Special Representative for Ukraine Negotiations Kurt Volker said this at a briefing in the town of Slovyansk on May 15, an Ukrinform correspondent reports.
"There is no conflict among the Ukrainian people. There's no ethnic conflict. There's no civil conflict. This is a conflict caused by Russia's intervention in eastern Ukraine," Volker said.
Russia exercises direct command and control of the military forces, and it exercises decisive political control over the political entities in the occupied areas, the diplomat noted.
According to Volker, the United States and Europe have made great efforts at the political level to overcome the conflict and achieve peace in Donbas.
"We want to see peace returned here. We want to see people get their lives back. It is a tragedy to see this conflict continue affecting the local population. Russia says that one of its objectives is protecting a Russian-speaking population. The most important thing it could do to help that population is to remove its forces, allow the territory to be peaceful again and see it restored under normal governance," the U.S. Special Representative emphasized.
ol