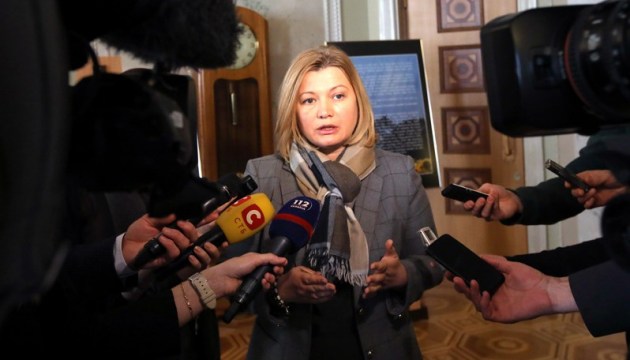 Putin wants to destabilize Ukraine and Europe through interference in elections - Iryna Gerashchenko
First Deputy Chairman of the Verkhovna Rada of Ukraine Iryna Gerashchenko has stated that Russian President Vladimir Putin wants to destabilize the whole of Ukraine and Europe, in particular, through interference in the upcoming elections in Ukraine.
She stated this during a meeting at the Royal Institute of International Affairs (Chatham House), the Ukrainian Embassy in the United Kingdom reported on Twitter.
"Putin doesn't need Donbas but destabilize whole #UA and thus Europe, incl. through interference into future presidential and parliamentary elections in Ukraine," she said.
According to the information on the website of Chatham House, the meeting was also attended by Igor Kozlovsky, Director, Centre for Religious Studies, Donetsk, and Denis Krivosheev, Deputy Director for Research, Eastern Europe and Central Asia Regional Office, Amnesty International.
At this event, the panel discussed recent developments in prisoner exchanges, humanitarian efforts to support vulnerable groups and the spillover effects of the conflict on the rest of Ukraine. They examined the obstacles to improving the humanitarian situation in Donbas and suggested ways to strengthen assistance provided by Ukraine's Western allies.
ish