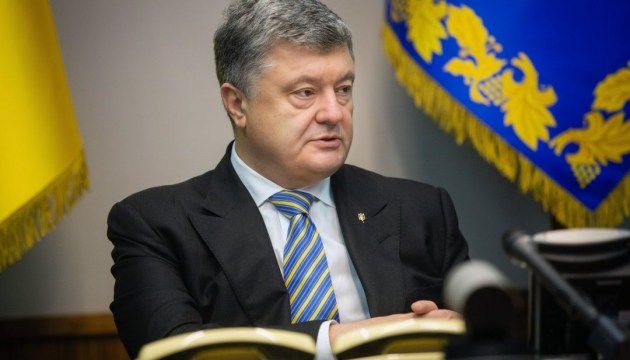 There is hot war in Donbas, Poroshenko reminds
The UN peacekeeping mission in the temporarily occupied territory of Donetsk and Luhansk regions cannot be held in the presence of Russian troops there.
President of Ukraine Petro Poroshenko said this in an interview with CBS News, the press service of the Head of State reports.
"It is impossible for the peacekeeping mission to take place simultaneously with the presence of Russian troops," Poroshenko stressed, adding that the mission is "an instrument to exert pressure on the Russian Federation to withdraw troops from the occupied territory."
He also stressed that the elections on the temporarily occupied territory of Donbas were possible immediately after the full implementation of the UN peacekeeping operation.
"Many of reviewers think that we have a new Cold War here [in Ukraine]. I want to disappoint them. It's not a cold war. It's a hot war, and every single day we have casualties among Ukrainian civilians and Ukrainian soldiers," the President said.
As Poroshenko noted, the representatives of armies of the NATO members and partners learn the new experience of the Ukrainian Armed Forces, the newest experience of counteraction in hybrid war, while the Ukrainian troops learn from them the tactics and strategy of the NATO standard.
ol