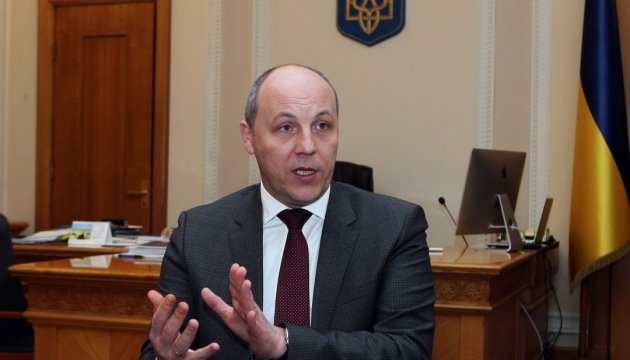 Parubiy discusses challenges facing Ukraine, Lithuania, Poland
Verkhovna Rada Chairman Andriy Parubiy believes that historical issues should help countries and peoples build their future.
The parliament speaker said this at a joint briefing of the speakers of Ukraine, Poland and Lithuania in Vilnius on Thursday, the parliament's press service reported.
"We must find such historical events as the one today, about the creation of the first constitution in Europe, which unites our people, which make us stronger. The common past should not stand between us. It should help us build a future that is common to our peoples and a free Europe," Parubiy said.
The Ukrainian speaker expressed gratitude for the invitation to attend a solemn sitting of the Seimas of the Republic of Lithuania on the occasion of the anniversary of the Constitution and stressed that, remembering the history, one must think about the present and the future.
"When our peoples were together, we secured peace and security, aspiration for democracy, freedom and dignity," Parubiy said, noting that today Lithuania, Ukraine and Poland are facing the same challenges.
According to him, these challenges are most acute in front of Ukraine and in the regions that have a common border with Russia, where the states are most susceptible to hybrid threats in all spheres.
According to him, Ukraine, first of all, rebuffs military aggression, but Russia carries out dangerous actions in the field of energy, information, economic, cybersecurity - in all areas where an attack on Europe and all peoples is taking place.
In this context, Parubiy said that he was a supporter of closer regional cooperation, and emphasized the importance of inter-parliamentary assemblies. He also expressed confidence that Lithuania and Poland would make efforts to help create this assembly and share their experience.
"We must create and implement joint initiatives together," Parubiy said, recalling the signing of a letter by the six speakers on the unacceptability of the Nord Stream 2 project, which demonstrated a common approach and understanding of the energy threat from the Russian side for pressure on Europe and spread of its impact.
The Verkhovna Rada chairman also took part in the ceremony of raising the state flags of Lithuania, Poland and Ukraine on Independence Square in Vilnius.
op