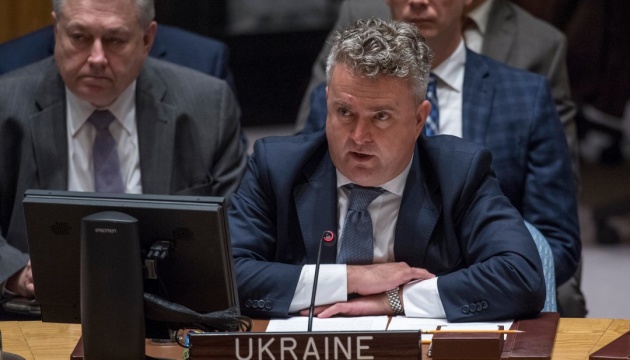 Ukraine at UN indignant at 'conscription' of Crimean residents to Russian army
Along with the criminal annexation of the Ukrainian Crimea in 2014, Russia continues to grossly violate the norms of international humanitarian law, drafting residents of the occupied territory into the ranks of its armed forces, Ukrainian Deputy Foreign Minister Serhiy Kyslytsia has said.
He said this during an open debate of the UN Security Council on Monday, April 23, an Ukrinform correspondent reported.
"Repeatedly my delegation urges the Russian Federation to accept its international legal responsibility and demands the termination of its wrongful acts in the Autonomous Republic of Crimea, city of Sevastopol and certain areas of Donetsk and Luhansk regions," Kyslytsia said.
In this regard, he recalled that according the latest OHCHR report on the human rights situation in Ukraine, Russia continues to conscript residents of the Ukrainian peninsula to its armed forces.
"The Russian Federation continued to compel Crimean residents into its armed forces, conscripting at least 4,800 men within two campaigns in 2017, in violation of international humanitarian law," Kyslytsia said.
In addition, he said that courts in Crimea started to hear cases on charges of draft evasion.
"We demand from the Russian Federation to stop this illegal practice of conscription of young men at the occupied territories and to respect its obligations according to the international humanitarian law as an occupying power," he said.
op