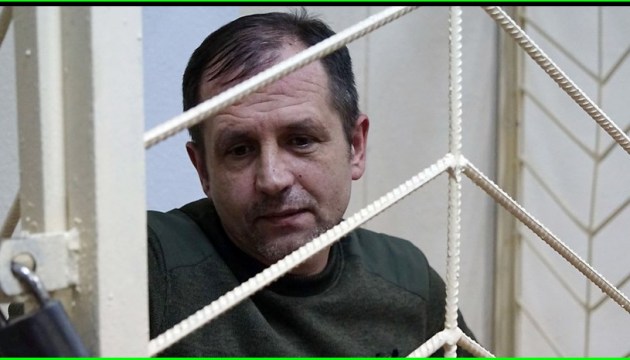 Crimean activist Balukh is on hunger strike already for a month
Staying in a pre-trial detention center in the occupied Crimea, activist Volodymyr Balukh continues the hunger strike, which he announced a month ago, on March 19.
The activist went on hunger strike in protest against the verdict in on one of the criminal cases initiated against him.
As Radio Liberty reminds, the Foreign Ministry of Ukraine has recently issued a demand to allow Ukrainian doctors visiting Volodymyr Balukh.
April 16, Ukrainian Parliament Commissioner for Human Rights Liudmyla Denisova appealed to her Russian counterpart Tatyana Moskalkova with a request to verify the information about physical and psychological pressure exerted on Balukh in the cell. There are no exact data on Balukh's health status.
In August 2017, another criminal case was opened against Balukh. This happened after Balukh and his lawyer filed a complaint with the police about the actions of Valeriy Tkachenko, the chief of the Razdolnensky temporary detention facility. In response, Tkachenko filed a complaint against Balukh, claiming the activist beat him. According to the lawyers of the activist, Tkachenko himself attacked Volodymyr Balukh, namely: hit him, insulted with swear words and humiliated him on a national basis.
On March 19, the Kremlin-controlled Razdolnensky district court chose a pre-trial restriction for Volodymyr Balukh in form of detention until June 19, 2018.
The Federal Security Service of Russia detained Volodymyr Balukh on December 8, 2016. The FSB officers claimed that they had found 90 cartridges and several TNT blocks in the attic of his house.
March 14, the Kremlin-controlled Supreme Court of Crimea changed the verdict in the case of Ukrainian activist Volodymyr Balukh. The court excluded the paragraph on purchase of ammunition from the verdict and sentenced the activist to 3 years and 5 months of imprisonment in a penal colony settlement and fined him about UAH 4,600.
The lawyers of Balukh and human rights activists assert that he has become a victim of repression for his pro-Ukrainian views, namely for placing a Ukrainian flag in the yard of his house.
ol