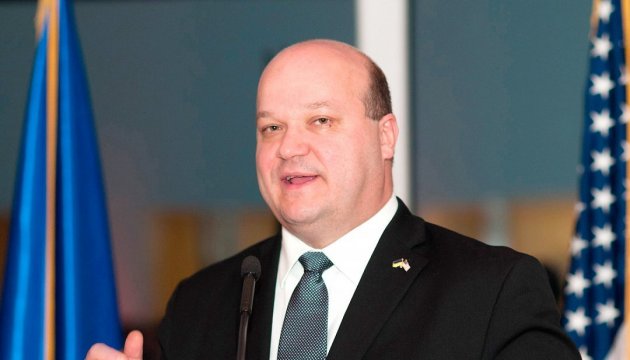 Embassy refutes fake reports of detention of Ukrainian officials in Colorado
Ukraine's Embassy in the United States has refuted reports in the media about the alleged detention in Colorado of high-ranking Ukrainian officials participating in the 34th Space Symposium.
A respective report has been posted on the official page of the embassy on Facebook.
"Ukraine's Embassy in the U.S. refutes information about the alleged detention of representatives of the Ukrainian space industry participating in a symposium in Colorado Springs, the U.S., and the alleged departure of the Ukrainian ambassador to the U.S. for Colorado to clarify the circumstances," the report says.
The embassy called the spread of such information a fake and a blatant lie.
"The Ukrainian delegation is working according to the planned program and continues to participate in the event. Ukraine's Ambassador to the U.S. Valeriy Chaly continues his work in Washington as a member of the Ukrainian delegation at the Spring Meetings of the IMF and the World Bank Group," the embassy reported.
At the same time, the embassy did not rule out that a fake news story was a "planned informational attack," which may continue. "We call on the Ukrainian and international media to be careful and not to succumb to provocations," the embassy said.
On Tuesday, April 17, a number of Ukrainian media outlets spread information about the alleged detention of Head of the State Space Agency of Ukraine Pavlo Dehtiarenko and General Designer of the Pivdenne Design Bureau Oleksandr Dehtiarenko. The reports also said that Ukraine's ambassador to the United States had allegedly flown out to Colorado to clarify the circumstances.
op