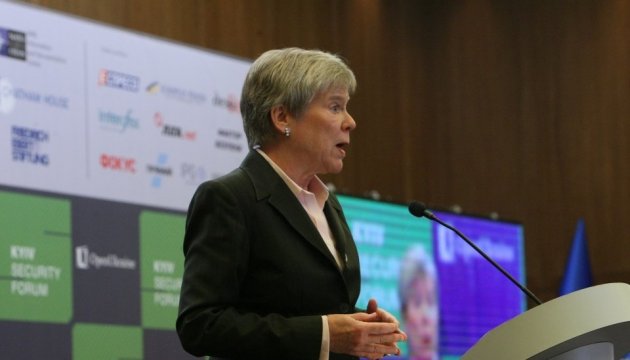 NATO Deputy Secretary General: Ukraine's Euro-Atlantic aspirations are realistic
Ukraine's Euro-Atlantic aspirations are important and completely realistic goal, which requires carrying out serious reforms.
NATO Deputy Secretary General Rose Gottemoeller said this at the 11th Kyiv Security Forum, organized by Arseniy Yatsenyuk's The Open Ukraine Foundation, an Ukrinform correspondent reports.
"It's not so idealistic for Ukraine to have Euro-Atlantic aspirations and to wish to join both NATO and the European Union. I think these are very important and realistic goals. But important reforms have to be carried out. They are the reforms of defense institutions, the security institutions," Gottemoeller said.
If I have one piece of advice for Ukraine, the NATO Deputy Secretary General noted, it is to keep the focus on reforms.
"But your Euro-Atlantic aspirations are not idealistic, they are realistic," Rose Gottemoeller stressed.
ol