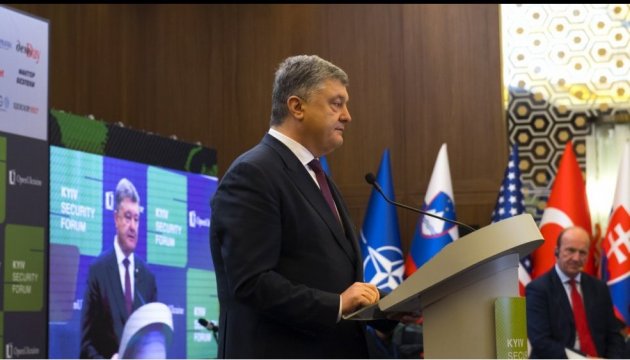 President: There will be no better opportunity for Ukraine's rapprochement with EU and NATO
Ukraine will raise the issue of closer cooperation and prospects for membership in the EU and NATO at the upcoming high-level meetings.
President of Ukraine Petro Poroshenko said this at the 11th Kyiv Security Forum, organized by Arseniy Yatsenyuk's The Open Ukraine Foundation, an Ukrinform correspondent reports.
"It is now time to adopt strategic decisions on determination of the Eastern European borders of the European Union and NATO. I emphasize that there will be no better opportunity. Ukraine, Moldova and Georgia belong to the western alliance and should be the part of it. It is our agenda for the next high-level meetings in NATO and the EU," Poroshenko said.
In particular, Poroshenko noted that he would insist on providing Ukraine with the NATO Enhanced Opportunities Program and the NATO Membership Action Plan. As for the EU, "we will gradually promote the comprehensive sectoral integration alongside the Association Agreement," the President said.
"I am talking about the single digital market, the Energy Union, the association with the Schengen Area, the so-called Eastern Partnership Plus, new ambitious goals and targets for those countries, including Ukraine, Moldova and Georgia, who have determined their path," the President of Ukraine underscored.
Poroshenko added that the path had been determined not by the country's leadership, but by the people, who demonstrate a very powerful support for this choice.
ol