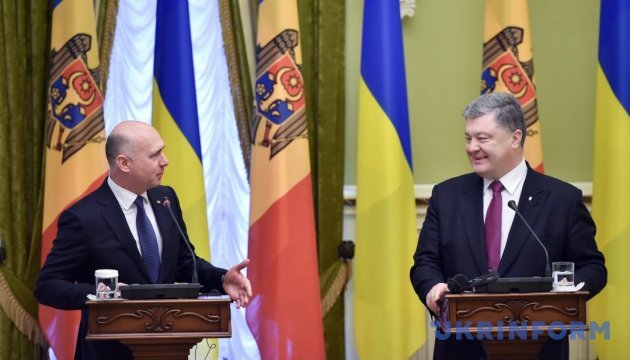 Ukraine, Moldova to speed up process of integration into EU
Ukraine and Moldova plan to intensify cooperation and coordinate their efforts as part of the Eastern Partnership in order to speed up the process of integration into the EU.
Such agreement was reached in Kyiv on Thursday at a meeting between Ukrainian President Petro Poroshenko and Moldovan Prime Minister Pavel Filip, the press service of the head of state reported.
"Ukrainian President Petro Poroshenko held a meeting with Prime Minister of the Republic of Moldova Pavel Filip. It was agreed to strengthen the coordination of positions as part the Eastern Partnership in order to speed up the process of integration into the EU," the statement reads.
Poroshenko and Filip discussed the topical issues of the bilateral agenda. The parties positively assessed the growth of trade between the two countries, which increased by 13% in 2017.
The sides also called for the speedy finalization of the negotiation process regarding the conclusion of an intergovernmental agreement on the functioning of the Dniester Hydroelectric Pumped Storage Power Plant.
Particular attention was paid during the meeting to some aspects of the Transdniestrian settlement.
The president thanked the Moldovan side for helping recreate Ukrainian children from the Donbas region in Moldova.
In the presence of the Moldovan prime minister, Poroshenko signed the law ratifying an agreement between the Cabinet of Ministers of Ukraine and the Government of the Republic of Moldova on joint control of persons, vehicles, goods and objects at common border crossing points through the Ukrainian-Moldovan state border, the press service said.
op