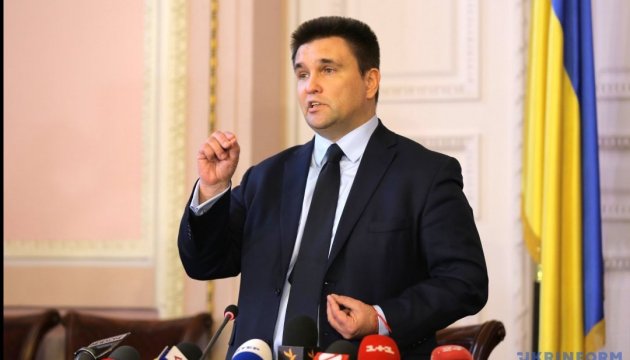 Klimkin discusses cancellation of visas, free trade in Macedonia
Ukrainian Foreign Minister Pavlo Klimkin has met with Macedonia's leadership to discuss the prospects for deepening bilateral cooperation in key areas, the press service of the Ukrainian Foreign Ministry has reported.
"The prospects for deepening Ukrainian-Macedonian cooperation in the economic, energy, transport, agricultural and other spheres were discussed at a meeting with Macedonian Prime Minister Zoran Zaev," reads the statement.
The sides emphasized the importance of holding another meeting of the Ukrainian-Macedonian intergovernmental commission on trade and economic cooperation and the joint committee on the implementation of the free trade agreement.
At the same time, Klimkin and Zaev noted the need to amend the existing bilateral free trade agreement to ensure its maximum liberalization. The parties also agreed on further coordination of efforts aimed at implementing large-scale projects in Macedonia in the field of gasification and modernization of thermal power plants.
The sides also emphasized the need to speed up the preparation of an intergovernmental agreement on the mutual abolition of visa requirements on a permanent basis.
Klimkin also met with President of the Assembly of the Republic of Macedonia Talat Xhaferi to discuss inter-parliamentary cooperation. "The practice of cooperation between the parliaments of both countries at the level of inter-parliamentary groups was positively noted," the statement reads.
Klimkin also asked Xhaferi to consider recognizing the Holodomor of 1932-1933 as genocide of the Ukrainian people.
During the talks with Macedonian Foreign Minister Nikola Dimitrov, the sides noted the common foreign policy priorities of Ukraine and Macedonia - membership of the European Union and NATO and the importance of sharing experience in these areas.
"The ministers agreed to intensify bilateral contacts aimed at deepening the political dialogue and economic cooperation between the two countries and discussed coordination in the UN, the OSCE, and the Council of Europe," the Foreign Ministry reported.
In addition, the foreign ministers signed a memorandum of cooperation between the diplomatic academies of the two countries and a joint declaration between the foreign ministries of both countries.
Earlier, Klimkin and Dimitrov agreed to sign a visa waiver agreement in the near future.
Klimkin is on an official visit to Macedonia on April 11-12.
op