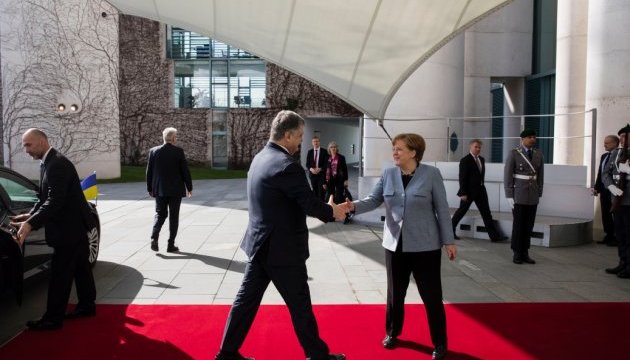 Merkel calls talks with Poroshenko productive
Germany supports Ukraine politically, and this cooperation is important.
German Chancellor Angela Merkel said this at a joint briefing with Ukrainian President Petro Poroshenko on Tuesday, an Ukrinform correspondent reported.
"I am glad that Ukrainian President Petro Poroshenko is visiting us today. We have had a productive conversation. Germany has cooperated with Ukraine for more than 20 years, and we also cooperate in the issue of the Minsk agreements. We are glad to see Ukraine developing. We also understand that Ukraine is in difficult conditions, and therefore cooperation between our countries is so important. Therefore we have to support Ukraine in the political sense, and we are doing it," Merkel said.
She noted that she had discussed the Minsk process with Poroshenko.
"Unfortunately, there is still no lasting peace, but we have discussed the achievements that we have already achieved. I also spoke with Russian President Vladimir Putin. I discussed this issue. All this is being done for the people who live in the east of Ukraine, and we have to assure you that Germany, together with France, will continue to cooperate for the Minsk process settlement," she said.
Merkel added that a joint German-Ukrainian forum is to be held this year.