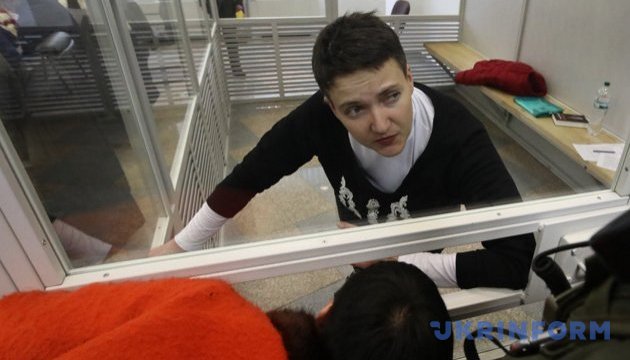 Court rejects Savchenko's request to recuse judges
Kyiv Court of Appeal, which is considering a complaint against a ruling of the trial court that selected the measure of restraint for MP Nadia Savchenko in the form of detention, has refused to satisfy a petition from the people's deputy concerning the recusal of a panel of judges.
The respective decision was announced by Presiding Judge Ihor Palenyk, an Ukrinform correspondent reported.
"The panel of judges decided to reject a statement by suspect Savchenko about the recusal of judges Palenyk, Hlyniany, Masenko," Palenyk said.
As reported, on March 22, the Verkhovna Rada gave its consent to the prosecution, detention and arrest of Ukrainian MP Nadia Savchenko.
She is charged with committing acts aimed at overthrowing the constitutional order and seizing state power, encroaching on the life of a state or public figure, preparing for a terrorist attack, assisting a terrorist organization and illicit handling of weapons, ammunition and explosives.
On March 23, the Shevchenkivsky District Court in Kyiv ruled to arrest Savchenko until May 20 without the right to post bail.
op