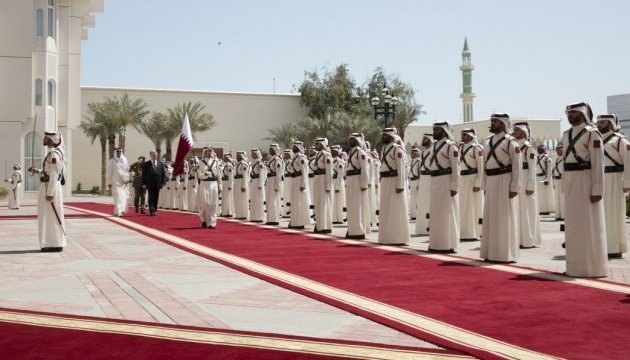 Ukraine, Qatar to establish joint commission on economic, trade and technical cooperation
Ukraine and Qatar have signed a series of agreements on economic, trade cooperation and investment promotion.
The documents were signed within the framework of the official visit of President Petro Poroshenko to the State of Qatar, the press service of the head of state reported.
"Following the negotiations between President of Ukraine Petro Poroshenko and Emir of Qatar Sheikh Tamim bin Hamad Al Thani, several documents were signed," the report reads.
In particular, the agreement on avoiding double taxation and preventing tax evasion regarding income taxes was signed between the Governments of the countries.
The Governments also signed the agreement on the establishment of the joint commission on economic, trade and technical cooperation.
The signing of the document will enable the establishment of an effective mechanism for coordinating the actions of both parties in the context of development and deepening of interaction in the trade and economic spheres, as well as monitoring the practical implementation of the relevant agreements.
In addition, the agreement on promotion and mutual protection of investments was signed.
The agreement will facilitate the intensification of investment cooperation between Ukraine and the State of Qatar, stimulate business initiative and develop economic cooperation.
A memorandum of understanding was signed between the Taras Shevchenko National University of Kyiv and the Qatar University.