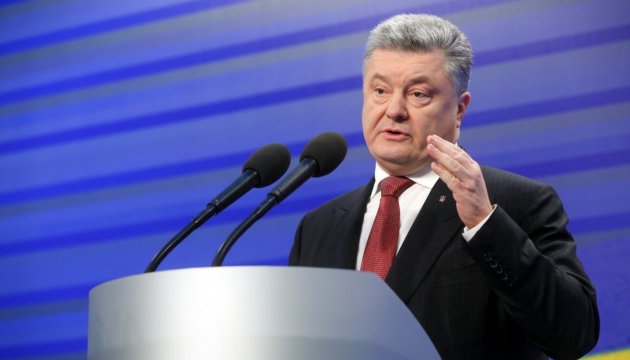 Poroshenko: I would be happy about lifting of sanctions when Russia leaves Donbas, Crimea
Ukrainian President Petro Poroshenko hopes for changes in the advancement of the Minsk process after the presidential election in Russia and will be happy about the lifting of sanctions against Russia when it leaves Donbas and Crimea.
He said this in an interview with German media group Funke Mediengruppe, which was published on Saturday, March 17.
"The presidential election gives Putin a new opportunity to change his place in history. He has no other way," Poroshenko said.
He said he had no doubt that Putin in Ukraine had come to a dead end.
"I would be happy if the sanctions against Russia were canceled, but only when the last Russian soldier disappears from the territory of Donbas and Crimea. As long as the peace agreement is not fully implemented, there should be no weakening of sanctions against Russia," he said.
When asked about a boycott of the FIFA World Cup to be held in Russia this summer, Poroshenko acknowledged that he would like to see a comprehensive boycott, but the task of introducing more effective sanctions was more important.
"Sanctions are not punishment. An international tribunal should be punishment for Russian aggression one day," Poroshenko said.
Poroshenko called himself an optimist and expressed confidence that after the presidential election in Russia there will be a new opportunity to change the situation in Ukraine for the better. According to him, the most important issue is whether Russia will agree at the UN Security Council to set up a peacekeeping force in Donbas.
"Of course, this should be a reliable force that disarms fighters. This is more than an escort service, this is the key to the implementation of the Minsk agreements," he said.
op