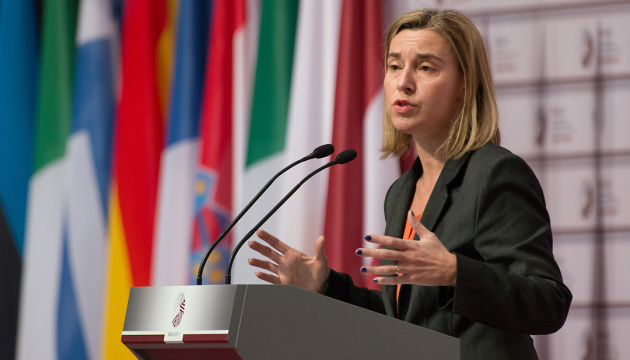 EU again calls on Russia to return Crimea to Ukraine - Mogherini
The European Union has supported the territorial integrity of Ukraine, once again reminding Russia of the illegality of the annexation of Crimea and violations of international law and human rights in the occupied peninsula.
EU High Representative for Foreign Affairs and Security Policy Federica Mogherini said this in a statement released in connection with the fourth anniversary of the illegal occupation of the Autonomous Republic of Crimea and Sevastopol by Russia, Ukrinform's correspondent in Brussels reports.
"Four years on from the illegal annexation of the Autonomous Republic of Crimea and the city of Sevastopol by the Russian Federation, the European Union remains firmly committed to Ukraine's sovereignty and territorial integrity. The European Union reiterates that it does not recognize and continues to condemn this violation of international law. It remains a direct challenge to international security, with grave implications for the international legal order that protects the unity and sovereignty of all States," reads the statement.
It notes that the EU remains committed to fully implementing its non-recognition policy, including through restrictive measures.
"The European Union does not recognize the holding of elections by the Russian Federation in the Crimean peninsula," Mogherini said.
The EU also condemned the militarization of the peninsula that continues to impact the security situation in the Black Sea region.
"The European Union condemns the construction of the Kerch Bridge without Ukraine's consent and the limitations it has already imposed on the freedom of transit," the statement says.
The EU High Representative also noted the deterioration of human rights and fundamental freedoms on the Crimean peninsula after its annexation by Russia.
In particular, the EU pointed to a flagrant violation of the rights of Crimean Tatars and Ukrainians in Crimea.
The European Union once again called on Moscow to immediately release Oleh Sentsov, Oleksandr Kolchenko, Mykola Semena and all others who were imprisoned and convicted in violation of international law.
"The EU calls for full compliance with international human rights standards in the peninsula," Mogherini said.
The European Union also stressed the need for Russia to implement the provisions of the UN General Assembly resolution on Ukraine's territorial integrity.
op