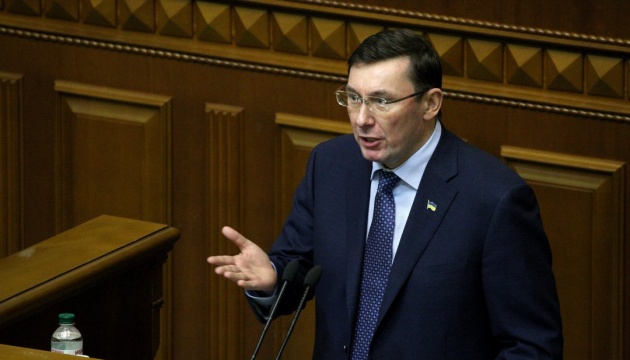 MP Savchenko plotted terrorist attack in Ukrainian parliament - Lutsenko
Ukrainian Prosecutor General Yuriy Lutsenko has said that on March 15 he will submit a motion to the Verkhovna Rada on the prosecution, detention and arrest of MP Nadia Savchenko, because she, according to him, plotted a terrorist attack in the session hall of the Ukrainian parliament.
He said this from the parliament's rostrum on Thursday, an Ukrinform correspondent reports.
"The investigation has undeniable evidence that Ukrainian people's deputy Nadia Savchenko personally planned, personally recruited, personally gave instructions on how to carry out a terrorist attack here, in this hall [of the Verkhovna Rada], by destroying two government boxes with combat grenades, firing at the dome of the Verkhovna Rada from mortars and finishing those who survive from machineguns. So today, as Ukraine's prosecutor general, I will submit to the Verkhovna Rada a motion on the prosecution, detention and arrest of people's deputy Nadia Savchenko," Lutsenko said.
At the same time, he also called on MPs to urgently support a draft law "envisaging, after a motion by the prosecutor general, that diplomatic passports of people's deputies would stop" so that they remain in Ukraine and stand trial.
"The current rules of procedure provide for five days for an answer of a people's deputy. I hope that next Wednesday we will [get a decision from] the committee on rules of procedure, and next Thursday the Verkhovna Rada will make a decision against the organizer of a plotted terrorist attack in the Verkhovna Rada of Ukraine," the prosecutor general added.
As Ukrinform reported, Savchenko was summoned to the Security Service of Ukraine (SBU) on March 13 for interrogation in the case of Volodymyr Ruban, who was detained in Donetsk region when attempting to bring weapons from the occupied territory, but the MP did not visit investigators.
Subsequently, Savchenko said she had learned about a subpoena in media outlets that "are not a reliable source of information" and added that from March 12 to March 16, she is "on a planned working visit to the European Parliament in Strasbourg, where EU parliamentary sessions are underway."
She also said that she had officially informed the Ukrainian parliament's apparatus about this trip, therefore, in her opinion, the information provided was available to the SBU.
Savchenko also said that she would like to be handed a subpoena for interrogation at the SBU.
However, the parliament chairman's spokesperson said that Verkhovna Rada Chairman Andriy Parubiy had not signed an order on a foreign trip by Savchenko.
Prosecutor General Yuriy Lutsenko said on March 14 that he would be obliged to submit a motion on Savchenko's arrest to the Verkhovna Rada if she does not appear for questioning on March 15.
op