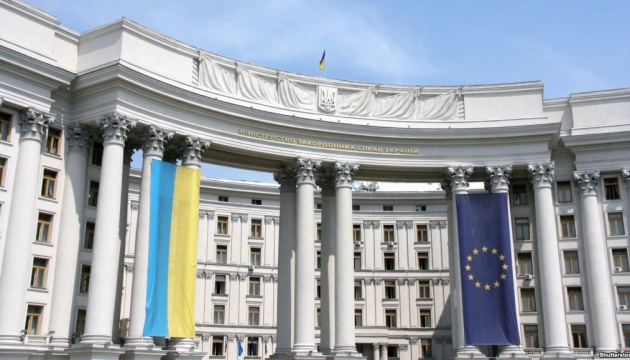 Ukrainian Foreign Ministry drafts proposals on Friendship Treaty with Russia
The Ukrainian Foreign Ministry has prepared proposals on the Treaty on Friendship, Cooperation and Partnership between Ukraine and Russia, including the possible suspension of the treaty in part or in full, Foreign Ministry spokeswoman Mariana Betsa has said.
"The Foreign Ministry has prepared a number of proposals and an analysis of the possible suspension of the treaty itself, either partially or completely. This is permitted by international law and the treaty itself. It can be suspended completely or partially, or denounced. That is, there are several options," Betsa said.
At the same time, she said that possible options were not limited to this list. "We did not make any final decision, because the final decision is made by the president. This is a treaty on behalf of Ukraine," the diplomat said. She also said that the Ukrainian Foreign Ministry was working on possible options for this treaty and "making a further analysis."
Speaking about the Commonwealth of Independent States, the diplomat recalled that Ukraine was not a member of this organization, because it had not ratified the CIS charter.
She said that after Russian aggression Ukraine "does not take part now in meetings of higher bodies of the CIS." "We always proceeded from the fact that our goal is to quit the CIS, which is a post-Soviet model that has exhausted itself, but we also make inventories of the treaties that are important to us. The withdrawal from the CIS does not mean automatic withdrawal from multilateral agreements. Some agreements are important to us," Betsa said.
She also added that these agreements included agreements on social and pension provision.
The Treaty on Friendship, Cooperation and Partnership between Russia and Ukraine was signed by the presidents of the two countries on May 31, 1997. The countries formally recognized the borders of each other and fixed the principles of strategic partnership and respect for territorial integrity. After annexation of Crimea and the beginning of the conflict in Donbas, there were repeated calls in Ukraine to terminate this treaty due to Russia's violation of the territorial integrity of Ukraine. Ukraine did not ratify the CIS charter, therefore it is formally considered to be an observer in this organization, and not its member.
op