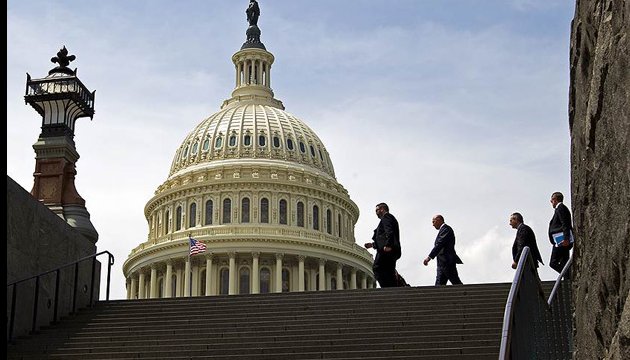 State Department condemns Putin's speech on Ukrainian peninsula
The U.S. State Department has expressed a negative reaction to Russian President Vladimir Putin's pre-election speech in the occupied Ukrainian Crimea, reminding Russia that sanctions will remain in place until complete de-occupation of the peninsula.
U.S. Department of State Spokesperson Heather Nauert said this in a statement issued on Wednesday, March 14, an Ukrinform correspondent reports.
"Four years ago this week, Russia held an illegitimate, fabricated 'referendum' in Ukraine in a futile attempt to legitimize its purported annexation of Ukrainian territory. Crimean residents were compelled to vote under scrutiny by heavily armed Russian troops," she said.
She stressed that Russia's claim that Ukrainians made a free choice in that sham "referendum" has always lacked credibility.
"In his campaign rally in Crimea today, President Putin reiterated Russia's false claims to Ukrainian territory in another open admission that the Russian government disdains the international order and disrespects the territorial integrity of sovereign nations," Nauert said.
She emphasized that in addition to an illegitimate "referendum," Russia had violated a number of other obligations and norms, causing numerous human losses on the Ukrainian peninsula.
"Over the past four years, Russia has engaged in a campaign of coercion and violence, targeting anyone opposed to its attempted annexation. Russian occupation authorities have subjected Crimean Tatars, ethnic Ukrainians, pro-Ukrainian activists, civil society members, and independent journalists to politically motivated prosecution and ongoing repression, while methodically suppressing nongovernmental organizations and independent media outlets," the statement says.
In this regard, Nauert emphasized that the United States called on Russia to cease its attempts to quell fundamental freedoms of expression, peaceful assembly and association, and religion or belief.
"We reaffirm our commitment to Ukraine's sovereignty and territorial integrity within its internationally recognized borders. Crimea is part of Ukraine and our Crimea-related sanctions will remain in place until Russia returns control of the peninsula to Ukraine," she said.
op