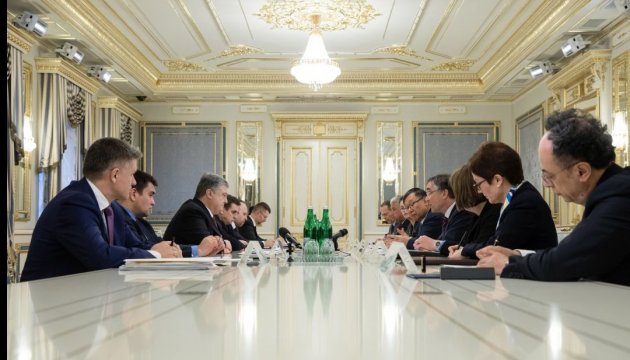 Poroshenko urges G7 countries not to recognize Russian 'election' in Crimea
President of Ukraine Petro Poroshenko has urged the G7 countries to condemn and not to recognize Russian election in the occupied Crimea.
Poroshenko said this during a meeting with the ambassadors of the G7 countries, including the USA, Japan, Germany, UK, France, Italy and Canada, the press service of the head of state reported.
"I would like to discuss Russian election of March 18. This would be critically important for us to get your firm statement of condemnation and non-recognition of Russian election in Crimea," Poroshenko said.
"We really appreciate your strong previous position," he added.
The Head of State addressed Head of the EU Delegation to Ukraine Hugues Mingarelli who was also present at the meeting and thanked him and the Vice-President of the European Commission for the EU's strong position.
"It would be also important that you don't allow your citizens to go to Crimea to monitor the election there," the President noted, adding that this referred to the representatives of France, Austria and Finland. "This could destroy the one-voice policy on the Crimean election," Poroshenko emphasized.
ish