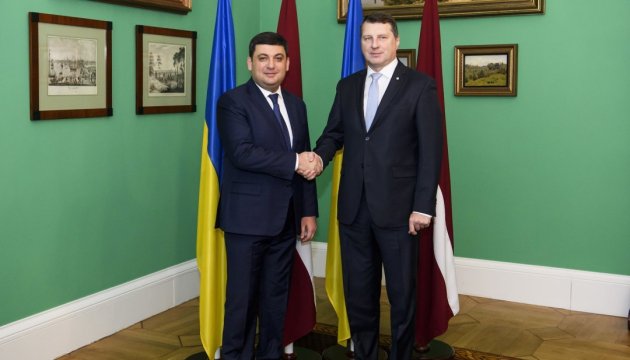 Ukrainian PM Groysman, Latvian President Vejonis discuss anti-Russian sanctions, situation in Donbas
A comprehensive sanctions policy against the aggressor country should be upheld and strengthened until the territorial integrity of Ukraine is fully restored.
This was discussed during the meeting of Prime Minister of Ukraine Volodymyr Groysman with President of Latvia Raimonds Vejonis, the Government portal informs.
"It is necessary to speak not only about the build-up of strength in response but about the weakening of Russia's strength as well. The sanctions policy is the path that weakens the aggressor. The sanctions can be lifted only if Russian troops return to their territory. The only state that can promote lifting of sanctions is Russia itself, if it stops its global threats," Groysman said.
Latvia is the unconditional friend and partner of Ukraine, Groysman stressed. That is why Kyiv highly appreciates the consistent support of Riga in the matters of political dialogue, non-recognition of the illegal annexation of Crimea by Russia. "Latvia is our friend. We are grateful to Latvia for the full support in the international arena," the Head of Government said.
"Everything happening in Ukraine is important for us. We condemn the situation in eastern Ukraine and in Crimea. It is important that all the international agreements are observed. Ukraine can rely on our full-fledged support," the President of Latvia said.
The parties discussed the situation in eastern Ukraine and pointed to systematic violations of the ceasefire and troop withdrawal agreement by Moscow.
ol